Coming to Lai Chau is coming to the beautiful and majestic mountains of the country, where there are more than 20 ethnic groups living, so there are many cultural differences here. Traveling to Lai Chau, you will have the opportunity to explore the famous peaks and passes of our country. There, you find yourself with nature, majestic with mountain peaks and floating with white clouds.
Lai Chau tourism: 10 majestic beautiful destinations
1. O Quy Ho Pass: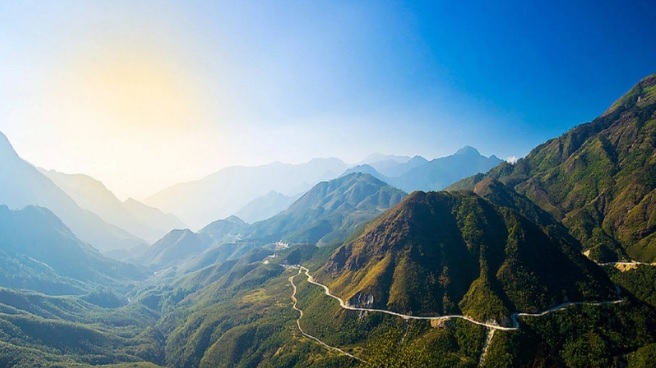 O Quy Ho Pass
The pass is nearly 50km long, of which 2/3 of the road belongs to Tam Duong - Lai Chau district, the remaining 1/3 is located on the Sa Pa - Lao Cai side. Passing the gate of Hoang Lien National Park about a few kilometers, you can reach to the top of O Quy Ho pass, this is also the boundary point between the two northern mountainous provinces of Lao Cai and Lai Chau, winding around the Hoang Lien mountain range, where the Fansipan peak - the roof of Indochina windy on the peak of 3,414m. O Quy Ho Pass has long been famous not only for its important traffic location but also for its most majestic beauty in the Northwest.
2. Sin Ho Plateau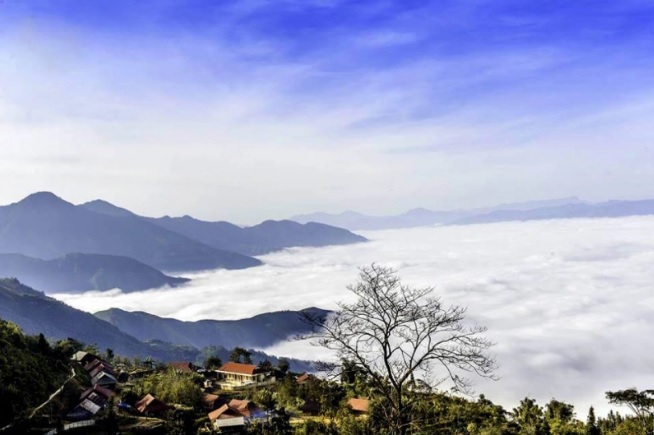 Sin Ho Plateau
About 60km to the west of Lai Chau city center, Sin Ho plateau is located at an altitude of more than 1500m. Considered as the second Sa Pa of the Northwest region, the weather in the day here is characterized by four seasons of the year, the average annual temperature is about 18 degrees Celsius. With a year-round cool climate, Sin Ho plateau is very suitable for medicinal plants such as sage, apple, artichoke, medicinal plants... and many varieties of special temperate vegetables and fruits such as plums, peaches, pears, etc., to grow.
Sin Ho Plateau is located in the midst of rocky mountains, thousands of primeval forests, in the middle of the sea of ​​​​clouds, here with winding terraced fields, villages lying on the side of the mountain...
Visiting Sin Ho plateau, visitors will have the opportunity to see the majestic nature of the mountains and forests, discover the unique customs and habits in the daily life of the villagers and especially enjoy the delicacies with bold flavors of the mountains such as buffalo meat wrapped in guise leaves, steamed goat, Ban pig, stream fish, Thang Co, sticky rice ...
3. Tan Uyen Tea Hill
Stretched along Highway 32, Tan Uyen tea hill is 40-50 years old with nearly 2000 hectares, located not far from the center of Tan Uyen town, Tan Uyen tea hill is now a favorite destination of many people when coming to this place.
Here you will enjoy the fresh scenery and nature. This is also the place where many people choose to take wedding photos, or take a romantic photo set in the green tea fields, amidst the golden sunshine. Tea is also one of the main economic crops of the town with famous tea products throughout the country such as tea San Tuyet, O Long, Thanh Tam....
4. Bach Moc Luong Tu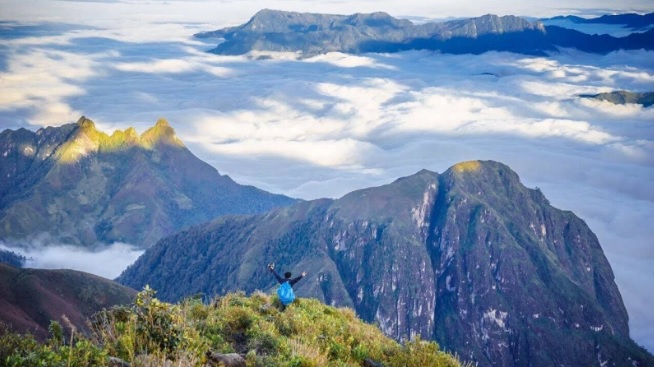 Bach Moc Luong Tu
Bach Moc Luong Tu peak is located in Sin Sui Ho commune. With an altitude of 3,045m above sea level, Bach Moc Luong Tu is one of the 5 highest mountains in Vietnam and Southeast Asia. Conquering Bach Moc Luong Tu is always a challenge but also full of attraction for backpackers. Not the highest peak, but Bach Moc Luong Tu is known as the peak with the most beautiful scenery, and the most interesting route to explore.
5. Pu Si Lung Peak
As the most pristine, mysterious and charming mountain in Vietnam, the legendary Pu Si Lung peak is located on the border of Vietnam and China in Pa Ve Su commune, Muong Te district, Lai Chau province with an altitude of 3083m. Known as the roof of the borderline, it is always the dream destination of adventurers.
6. Muong Te Nature Reserve
Muong Te Nature Reserve is located in the area of ​​2 communes Ta Tot and Mu Ca, where the flora and fauna is extremely rich and diverse, especially the forest ecosystem. The survey and investigation results of Muong Te district showed that there are 542 species of plants, of which 57 species of rare plants have been recorded in the Vietnam Red Book and 7 species in the World Red Book, most of which are species. rare medical ingredient; 22 species are narrowly endemic to the Northwest, 7 species are included in Decree No. 32 of the Government on management of endangered, precious and rare forest plants and animals; and 6 species are only found in the Northwest: Tram black, water gourd, bony gourd, brown sedge, clover, cycad, flower slice
7. Pu Ta Leng Peak
Located about 20 km northeast of Lai Chau city, Pu Ta Leng has an altitude of 3049 m. If Fansipan is like the "roof of Indochina", then Pu Ta Leng is the second roof that adventurers or young people passionate about challenges want to conquer even once. Every year, from October to March next year is the most beautiful time that tourists should choose to conquer Pu Ta Leng's peak by the beauty of nature and wild flowers, especially azaleas blooming from all the way to the top of the mountain.
Conquering the top of Pu Ta Leng, visitors will have to pass through primeval forests, waterfalls, streams or rich vegetation ... then when reaching the top, you will see hidden beauty in the ocean of clouds above 3,049m.
Layers of white clouds between the blue of the sky and the green of the mountains here are like a wonderful picture. Along with Pu Ta Leng, Lai Chau also owns 5 other peaks in the Top 10 highest mountains in Vietnam. In order will be Pu Si Lung (3,083m), Pu Ta Leng (3,049m), Bach Moc Luong Tu (3,045m), Khang Su Van (3,012m), Ta Lien (2,993m), Bach Moc Luong (2,976m). m)
8. Muong Than Field
Muong Than is one of the four largest fields in the Northwest in the territory of Muong Than commune, Than Uyen district. The immense field not only creates poetic beauty in the midst of majestic mountains and forests, but also produces many famous local products such as: baby corn, Hoang Long sweet potato, Sen Cu rice, Tam rice...
9. Pu Sam Cap cave complex
About 6km west from Lai Chau city, on the provincial road 129 connecting Lai Chau city with Sin Ho district, Pu Sam Cap cave complex is considered the "Northwest first cave". Currently, Pu Sam Cap has two caves that are welcoming tourists: Thien Mon cave and Thien Duong cave with many magical and mysterious stalactites, hidden with many touching stories of mountainous people. Pu Sam Cap is always an attractive invitation for all visitors near and far.
10. Si Thau Chai
Located 6km east from the center of Tam Duong town, Si Thau Chai village appears very poetic, a small village of the Dao people with over 60 households living, on cloudy days, visitors can mingle with the clouds which make the village unforgettable. Come to Si Thau Chai to experience daily life, production, enjoy ethnic cuisine, participate in folk games...
6 specialties you should try when traveling to Lai Chau
- Piglét: Piglets that fit through one's armpits (aka armpits pig) are a specialty of the Northwest highlands. This pig breed is allowed to roam freely in the forest by ethnic people, so each pig weighs about 10-15 kg. Due to eating leaves and vegetables in the forest, their meat is very firm and delicious. The armpit pig is processed into many delicious dishes such as steaming, grilling, cooking imitation civet, stewing, cooking soup ... Every dish is marinated and cooked with leaves and seeds with a mountain flavor, bringing a strange feeling. , especially for first-time visitors to enjoy.
- Ash-buried goby: If you have the opportunity to come to Phong Tho district, do not miss the dish of goby with ash - a specialty of the Thai ethnic group. Goby fish is available in rivers and streams, after being caught, it is preliminarily cleaned and marinated with minced spices such as lemongrass, chili, ginger, pepper, mac Khen leaves, basil, hom... Marinated for about 15 - 30 minutes, the fish will be wrapped in dong leaves and buried in hot ash, about 30 minutes to turn over once, so a few times the fish will be cooked.
- Pa Pinh Top: Pa Pinh Top (grilled folded fish) is a rather sophisticated dish, often used in meals when the family has precious guests. People choose fresh, whole carp to grill. After rubbing a little salt and dried chili powder to remove the fishy smell for the fish, the marinade is seasoned with herbs such as Mac Khen fruit (a type of wild pepper), ginger, garlic, lemongrass, onions, herbs. forest, paprika... minced, mixed together and rubbed evenly, and stuffed into the fish's belly.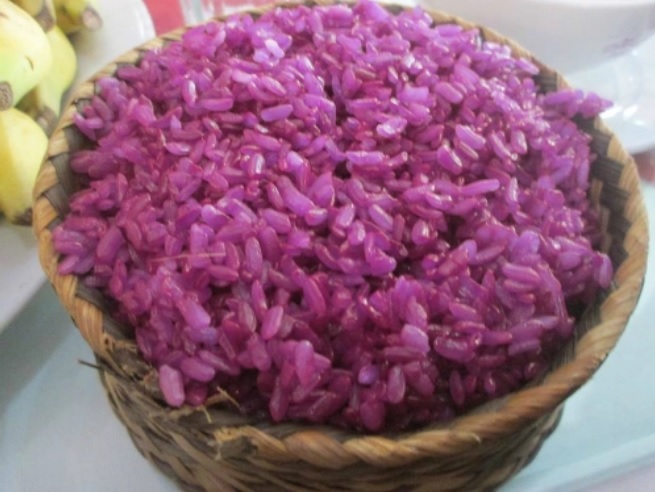 Purple sticky rice
Purple sticky rice: As a traditional dish of ethnic minorities in Lai Chau, purple sticky rice shows the ingenuity of a woman's hands in processing. Mountainous sticky rice is thoroughly soaked for 6-8 hours before being served. The characteristic and attractive purple color of sticky rice is dyed with a plant called "kock" (a type of forest leaf).
- Grilled rock moss: Rock moss is a clean vegetable of Lai Chau people. It is very difficult to get them from the rocks by the stream to process into delicious dishes for the family such as cooking soup, grilling, stir-frying... When preparing moss, the worker needs to pick up the moss and put it in the basket. , wash with clean water to remove sand and dirt, put on a big rock, or cutting board and then use a big log to beat, just do this a few times before it can be cooked.
- Lettuce salad: Lettuce grows everywhere in home gardens, ponds, stream banks, so it is often present in the daily meals of Thai people in Lai Chau. The way to make this dish is also quite simple: choose young tops, wash them, dry them in the sun, then cook them, then mix them with herbs, chili, ginger, garlic, pasta, salt and squeeze a little fresh lemon.